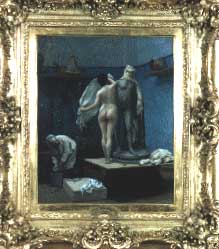 Family Owned and Family run Johnson City Tennessee auction business for 25
years.
Selling antiques and collectables for 38 years.

Antique Canes and Walking Sticks Collections, Folk Art, Estates, Antiques and Vintage Airplane Auctions
and many more collectables are sold through our company. The antique cane
field and the antique cane collector considers us one of the main antique
cane suppliers in the world. Please contact us if you are looking for a
cane expert. Kimball Sterling was the fourth auctioneer in the late
1990's to conduct live internet auctions and the first in the Southern
United States.Our firm has conducted over 100 internet auction and will
reach 1000 live auctions this year for its company history We conduct
many live auctions on the net today. Kimball M. Sterling has help raise
over 2 million dollars for various
benefits and charity auctions by locating and donating celebrity
automobiles and other items. Funds have been raised for individual
transplants, Heart Association, Humane Societies, March of Dimes, St.
Jude Children's Hospital and more. Mr. Sterling has also donated his
time and crews to reputable causes.

Kimball M. Sterling, Inc. was founded and is owned by Kimball and
Victoria Sterling, time and again, they have laid solid claim to world-
wide attention and renown with antique cane auctions, outsider art, fine
antiques and with
eight employees, an international client base of over 24,000, including
many celebrities, antique cane collectors and conducting more than 30
auctions per year on their schedule. Kimball M. Sterling works with a
network of
auction companies throughout the world and through reciprocity can
arrange an auction anywhere. The antique cane field has reached worldwide
attention. Sterling is actively seeking antique carved canes by A. P.
Dean.

Sterling credits diversity as the key to his company's phenomenal growth.
"We do it all." he says, and that is exactly what he means. Sterling,
Inc. has literally sold everything from kitchen sinks for $1.00 to the
only Pulitzer Prize ever sold at auction. Sterling, Inc. has sold many
unique items over the years including Malcolm X's manuscript and Jean-
Léon Gérôme's oil on canvas Le Fin de la Séannce pour Omphales, a
treasure long believed lost
to the world, and known only by a photogravure that remained. He has
conducted sales of antique canes. The antique cane division conducts two
to three antique cane auctions a year with world class cane buyers and
cane collectors. We handle one cane or an entire collection of antique
canes. Cane collectors from throughout the world buy and sell canes with
us.

Placing a valuable, one-of-a-kind, or otherwise unique item at auction is
always a matter of faith, and Sterling, Inc. has a rare talent for
justifying that faith. The Alex Haley estate was scheduled to be sold for
$50,000 -- and then Sterling, Inc. entered the picture -- the estate
sold at auction over a three day period for a approximately $880,000.
Jean-Leon Gerome's oil on canvas Le Fin de la Seance pour Omphale, had a
estimated sale price of
$180,000. In less than two minutes, during an auction attended by over
100 in-house bidders and 38 phone bidders from all over the world --
Sterling sold the painting for $363,000. Billed as "A Very Private
Collection," the day's total for the 306 pieces came to $932,000 --
nearly a quarter of million dollars over the pre-sale estimates!

Before the Haley auction, Sterling, Inc., was well known in the fields of
antique cars, jukeboxes and memorabilia, after the Haley auction they
became well known in the field of outsider art, and are now considered
the premier auction house in America in that particular field. Folk and
Appalachian art are two other fields where Sterling, Inc. is considered a
leader. Sterling's grand success with the Very Private Collection has, of
course, only increased his stature in the art world. Also canes are a
specialty of Sterling's. He offers free appraisals on antique canes.
Sterling is considered one of the top three cane auctioneers in the
world.
Sterling was a pioneer in the field of outsider art. He conducted one of
the first all outsider art auctions in the world "The Howard Smith
Collection". Mr. Sterling has sold to date more pieces of outsider art
than any auction company in the world and is considerd the premier
auction gallery in the world of Southern folk- outsider art. Many people
have tried to match Kimball M Sterling's ability in this field, but none
have come close. He is an expert in the market of outsider art and will
match any of the want-a-b's in the market. He was instructed in selling
two of the major pioneer collections. Those being the "Baking in the Sun
Collection" of Warren and Sylvia Lowe and the collection of Romona
Lampel's " Oh Appalachia". Kimball also credits a highly knowledgeable,
informed and efficient staff, personalized service, and computerization
in his company's success -- and takes particular pride in the level of
personalized service. In order to better serve his clients, Sterling
keeps a computerized data base listing client's collecting preferences,
and items of special interest to them. Acquired items are cross checked,
and the client informed and forwarded a photograph. Before a large
auction Sterling and his staff will spend literally hundreds of hours on
the phones with various clients to make certain that the upcoming sale
receives the greatest possible amount of favorable attention.

Acting in the client's best interest is second nature to Kimball M.
Sterling, and therefore he takes no unnecessary risks -- if he is not
certain about a particular item or field of merchandise, he calls in an
expert who is certain, to either educate Sterling himself, or sell the
item for him, because; as Sterling puts it, "You can't get top dollar for
something if you don't know what you're selling."

We invite you to call next time you wish to sell one item, an entire
estate, or a collection. Talk is free and is always a road in the right
direction.

When will the seller receive payment? Kimball M Sterling sends payments
to consignors approximately 30 working days after each auction, assuming
that the successful bidder has paid.

Who arranges the shipping of property to be sold? After agreeing to
consign property, you may choose to bring the property to Kimball M
Sterling Inc., arrange with your own shipper to deliver , or request
Sterling's assistance to organize shipment.

Kimball M Sterling offers free walk-in appraisals on one or two items. We
also offer complete appraisals at a nominal cost to collectors,
estates, divorces, courts, and insurance companies. We are qualified to
appraise person property, antiques, guns, coins, jewelry and much more.
We are a good expert witness in the court room for our client.

Kimball M Sterling is also in the party tent rental business in Johnson
City, Tennessee. Tents from 20x20 to 40x80.

The best prices on tents in the Johnson City area. Call 423-773-4074 or
423-928-1471. Call us for your next tent rental.

-----------------------------------------------

Read More by other people

http://acn.liveauctioneers.com/index.php/auctions/upcoming-auctions/2167-
kimball-m-sterling-opens-march-31-carpet-auction-to-online-bidding-

http://www.etsu.edu/alumni/awards/00awardsterling.aspx

http://acn.liveauctioneers.com/index.php/auctions/upcoming-auctions/1993-
1872-tom-thumb-presentation-cane-stars-in-kimball-sterlings-feb-6-sale

http://acn.liveauctioneers.com/index.php/auctions/upcoming-auctions/1826-
scoop-up-the-best-of-private-collections-at-kimball-sterling-jan-1

http://acn.liveauctioneers.com/index.php/auctions/upcoming-auctions/1141-
famous-names-mark-kimball-sterlings-outsider-art-auction-june-18

http://acn.liveauctioneers.com/index.php/auctions/upcoming-auctions/933-
prince-of-outsider-and-folk-art-selling-collection-at-kimball-sterling

http://www.liveauctioneers.com/search?
q=kimball+sterling+auction&fq=auction_house%3A%28%22Kimball+M.+Sterling+I
nc.+TFL-
1915%22%29&sort=relevance&dtype=gallery&hasimage=true&type=complete&rows=
20&pagenum=18

-----------------------------------------------

WHEN YOU NEED A GOOD COURT ANTIQUE AND PERSONAL PROPERTY APPRAISER JUST
GIVE US A CALL. THE FOLLOWING IS A GOOD LINK TO VIEW OUR WORK IN THE
COURTS: http://www.leagle.com/decision/19961012194BR818_1894




http://www.facebook.com/pages/Kimball-M-Sterling-Inc-Auctioneers-Tfl-
1915/296745763700603?sk=wall

This is our list of dead beat bidders for other auctioneers. All of the
people have purchased and not paid us and stop corresponding and had no
intention to pay us. Do not approve these people for your auctions.They
are a risk and untrustworthy.

Nissim Verta (500.00 unpaid)
Username: moreshet-auctions
Address: jonatan ben uziel 43
elad, israel 4082039,
Mobile tel: 97(252) 886-1994


Peter Maran ($3900.00 unpaid)
Username: docpete
Address: 50 rockledge road
bronxville, NY 10708, US
Mobile tel: (516) 442-5107

The two people below are non paying bidders from out March cane auction
and have been put on our bad bidder list Antique Cane Auction (9)

mikej31323@gmail.com
Michael Jenkins
2525203411(U)
2525203411(B)
2525203411

mort_baharloo@yahoo.com
Morteza Baharloo
7138186573(U)
2812954317(B)
2812954317(S)
Copyright ©2023, Kimball M. Sterling, Inc. All Rights Reserved.